What Is a Website Optimization and Where to Start? When you create a website or work on the optimization of an existing web platform, an opportunity to update information quickly, improve usability, and grow the conversion rate effectively makes your life much easier.
There are a variety of services that will help to improve SEO, and design, technical, and analytical aspects.
Weblium Team have decided to share some advice on choosing simple but powerful free tools that help to improve a website and lead to an increase in conversions, and also explain briefly how to use them.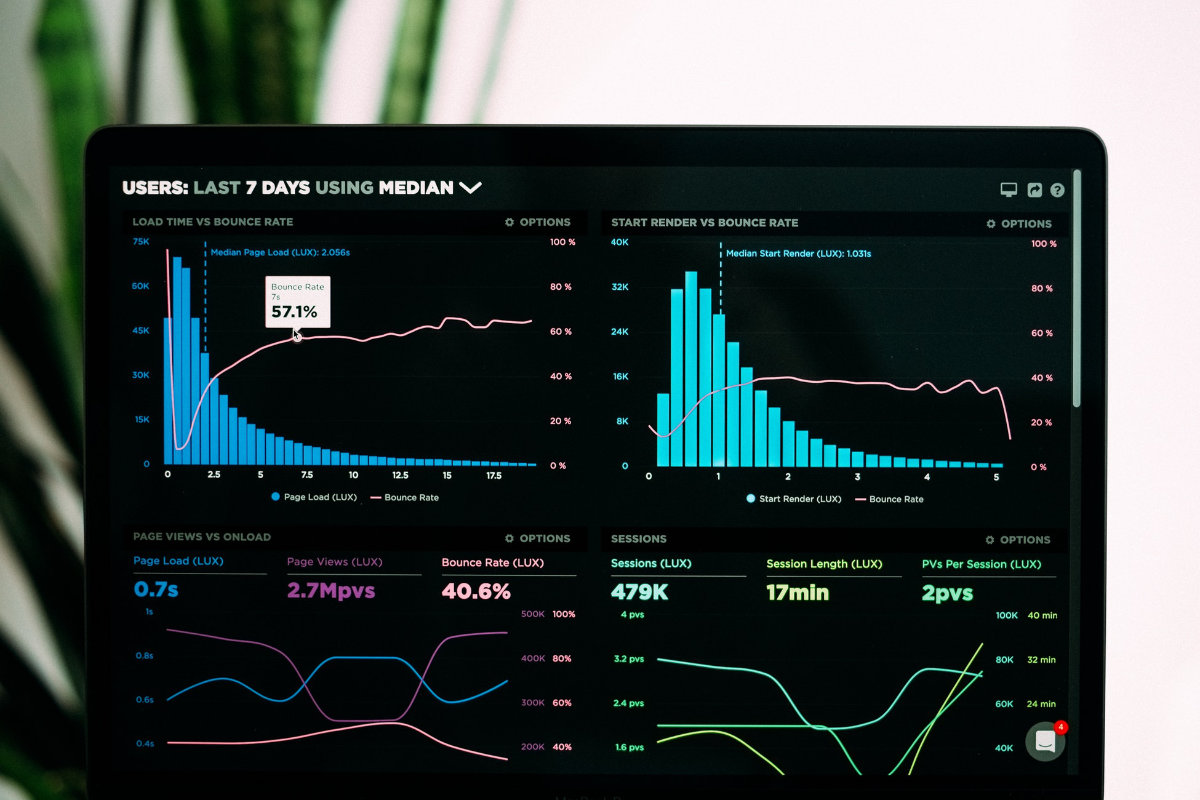 17 Best Free Website Optimization Tools
⭐ GOOGLE TOOLS
Google has a lot of free tools that can help you to improve your website and increase its ranking position. If you want to make your website more effective do remember to use these tools, as Google itself uses them to define your place in search. Every website optimization tool by Google mentioned in the table below is a must-know for marketing and SEO specialists.
FEATURES
Monitor website traffic;
Tack the dynamics of website conversion and set up events.
Tee new website users, their age, location, and the time spent on a website.
Track user behavior and customer journey.
Define the most frequent requests used to find your site.
HOW TO USE
Create an account.
Create a resource for data collection.
Setup reporting.
Follow the directions and tips the system shows you, it is quite easy.
FEATURES
Make sure crawlers see and scan your site;
Detect indexing issues and request repeated indexing.
Analyze and estimate website traffic from Google Search.
Receive notifications on indexing problems, spam, etc.
Fix responsive design issues.
Manage website loading speed.
HOW TO USE
Add a website to Search Console and confirm it.
Set up the necessary reports.
FEATURES
Analyze the dynamics of page loading.
Detect current issues.
Get tips and recommendations on improvement.
HOW TO USE
Open the page of the service.
Enter the URL of a page you want to learn about.
Click on "Analyze."
FEATURES
Check if a page is properly displayed on different devices.
Learn about possible usability issues.
Get recommendations for enhancing user experience.
HOW TO USE
Open the page of the tool.
Type or paste the URL address you want to check.
Click on a button to get the results.
FEATURES
Compare different versions of a landing page.
Hide, add, and change website elements.
Test different versions of web pages.
Find out whether their performance meets the set goal.
Choose a version with the best performance.
HOW TO USE
Create a Google Optimize account.
Choose an experiment type.
Integrate the tool with Google analytics.
Set up targeting and other conditions.
Install Optimize code with Google Tag Manager.
Add a script that hides replacement on the website.
FEATURES
Display your business on Search and Maps.
Get reports on how many users have called, opened a website, or clicked on "Get directions".
Make fast updates when needed, provide only relevant contacts and data.
Communicate with customers and potential clients.
Extend your online presence.
HOW TO USE
Open Google My Business page to log in or register.
Register your company or business.
Confirm the information.
Optimize the information so clients can find you quickly.
FEATURES
Track the competitors and interesting subjects.
Set up email notifications in Gmail.
Get reports based on Google's data.
HOW TO USE
Open Google Alerts.
Enter a topic/subject you want to track.
Put the request in "quotes" to look for exact matches or add /- to add or avoid specific related criteria.
Set up the parameters you want to learn about.
FEATURES
Find out the frequency of a request in relation to language and region.
Compare the popularity of several requests.
Find popular news and items people look for.
Track the behavior of your target audience.
Analyze the dynamics of search requests within a given time. 
Find new markets or niches.
Find content ideas.
HOW TO USE
Open Google Trends page.
Enter your request in a search row.
View schemes and graphics.
Set up filters that are more interesting for you.
⭐ OTHER WEBSITE OPTIMIZATION TOOLS
Google services are the basic tools for conversion rate optimization. After you get a solid background, start discovering more specialized and advanced tools. You will need to create unique content, make it visually attractive, free of mistakes, and take care of UX/UI. There is a long list of things to keep in mind and an equally long list of services that can help to manage these aspects. Find some of them below. 
TEXT OPTIMIZATION
FEATURES
Analyze a text for plagiarism.
Get detailed reports with plagiarized parts highlighted and links to sources.
HOW TO USE
Go to the website.
Paste your text.
Click on a button below to start the check.
See plagiarized parts with percentage and list of websites that have an identical text.
FEATURES
Check a text for mistakes.
Find grammar, spelling, and punctuation mistakes.
View suggestions on each issue.
Set up text parameters before the check.
Check the text readability score.
HOW TO USE
Open Grammarly and register/login.
Click on "New" to paste a text or on "Upload" to choose a document.
Indicate text features: choose style, emotional appeal, etc. from the offered options.
Get a list of mistakes with suggested corrections.
SEO
FEATURES
Detect duplicate content.
Find broken links on a website.
Find out what pages are most prominent for crawlers.
Get reports on each page.
HOW TO USE
Open the website.
Paste a URL and click on "Go."
View the report.
FEATURES
Identifies broken links on a website.
Find out if there are external links to your site.
Collect data to set up a redirect to active pages.
HOW TO USE
Go to the website.
Check a necessary tab to check backlinks or find the broken ones.
Deal with captcha.
Click on "Perform check" to see the results.
PERFORMANCE
FEATURES
Get detailed reports on WordPress website performance.
Analyze the response speed.
Create reports and recommendations for solving arising problems.
Increase the performance of a web platform. 
HOW TO USE
Open the website.
Paste a URL address.
Click on "Analyze" to see the reports.
Register and login to get access to more features.
FEATURES
Get insights on user behavior and user experience.
Find out whether your pages are performing effectively.
Optimize page size and UX/UI design based on real feedback.
Get ideas on how to improve website usability.
HOW TO USE
Open the website.
Sign up and follow the simple instructions.
FEATURES
Track website analytics and user behavior on heatmaps.
Get feedback to create a relevant FAQ section.
Find the optimal formats for lead generation and calls to action ideas.
Review content and design features.
HOW TO USE
Open the website.
Register and sign in.
Follow the guidelines and tips.
EASY MANAGEMENT & USABILITY
FEATURES
Mashup different apps and services; 
Optimize data flow from different sources; 
Automatize actions based on the received data; 
Start a workflow from any app and set up automatic closing routine tasks; 
Set up newsletters and chatbots.
HOW TO USE
Go to Zapier website.
Register and sign in.
Choose the apps you want to integrate.
Set up the parameters and conditions.
FEATURES
Enhance usability and customer satisfaction rate; 
Boost conversion and qualify the leads; 
Save time and resources spent on routine answers; 
Automatize FAQ and terms of service sections.
HOW TO USE
Open the site
Register and sign in.
Add different scenarios and responses.
Integrate with a preferred platform.
Bottom line
Learning how to use these tools requires some initial time and effort but it won't take long to see the results. The enhanced user experience, content of high quality, regular updates, and SEO optimization always lead to a significant conversion increase. 
If the task seems too complicated to handle, you may consider other options — to hire a specialist or use a website builder, where tools for increasing conversion are included in a package of services.