PROJECT | APPLE MUSIC
Client | DESIGNLAB
Role | UI/UX Designer 
Duration | FOUR WeekS
_____________________________________________________________________________________________
As part of the Designlab program, one of my projects involved designing a new feature within an existing product. The project I chose to work on was for Apple Music, which focussed on increasing social interaction among users. Socialisation has always been a subject of debate amongst many music streaming users and services alike. Spotify, an industry giant, recently pulled out their in-built messaging feature due to low user engagement. I wanted to do an empathetical approach and understand the exact needs of social communication in the interest of ' music streaming users' that would be solved with the ingression of a social feature.
Apple Music's mission is to help people stream music, videos, radio from their immense music collection across all devices without any interruption, in a legal and accessible way. Majorly an on-demand music service with access to 45 million songs that can be downloaded for offline use based on subscription, Apple Music still lags behind industry favorites like Spotify, Pandora, Google Play Music and Amazon Music in terms of user engagement, retention and popularity. For all these reasons they want to expand the social capabilities of their iOS application which is currently very limited to the creation of a profile; following other users and sharing public playlists. An interactive and engaging feature that let's their current users stay socially connected in favour of music is much needed to retain existing users. 
‣  Design a new social feature that embeds within the current Apple Music platform for iOS devices. 
    It has to embed well and seemlessly with the rest of the app.
‣  Design additional and complementary feature that could enhance the main feature.
Understanding the need for social communication in music applications | Process of identifying user's problems and empathising on vital issues
In order to completely understand the problems that can be addressed by developing a social communication system, I fleshed out a research strategy that helped me determine, 
– who am I developing the feature for? (demographics of Apple Music's target audience/existing users).
– what do I need to know? (user's behaviour, usage, motivation and preference by understanding their current method of social engagement for discovering and sharing music including frequency, app preference, context of use). 
– what problems should I be addressing? (the needs and pain points of Apple Music users that could be solved with the introduction of a social feature).
– what are the existing solutions that has worked or failed? (competitors strategy and services surrounding social engagement).
I started out by conducting a secondary research to identify trending features in music applications that are most preferred and used by music app users; examine the development and success strategy of social communication features in music apps through the years; understand the target audience's psychographic characteristics to develop a social feature in favour of their behaviour, interests and attitude. 
With the knowledge from preliminary investigation I conducted user interviews to identify target audience's motivation, needs and issues when using these services; understand their emotional and environmental triggers to music and the need for social bonding. I developed an interview and survey guide to help answer significant questions, such as
‣  How users discover new music?
‣  What they liked/disliked the most using the application?
‣  How much did they identify with their friend(s) interest in music? What type of knowledge transfer fuelled discussions surrounding their interest in music?
‣  How do users currently recommend or share music with others? What are the biggest concerns that they face when doing so?
After conducting empathy research, it was clearly evident that the target segment were serious 'music addicts' who had a different outlook, habits and preferences when it came to listening to music in comparison with 'casual listeners'. They had different drives, motivations and gains from listening to music which were dependent on their surroundings, attitude and exposure. A unanimous concern was the inability of sharing music which they deemed was rudiment and how it affected their need to socially connect with their friends and loved ones over a shared interest. 
The overall research findings helped establish the needs, gains, pain points of music app users and helped identify key areas of improvement which when addressed can help develop a social integration feature in Apple Music app that promises a sustainable user retention growth over time.

Once the problems that needed to be resolved were defined, I set about to establish premise of the project by creating an user experience strategy map to define the guiding principles, challenges, aspiration, focus areas, activities and measurements for success.


Synthesising user research findings
Upon conducting user interviews, I came across users with interesting personalities whose ideologies did not match with the masses. In India, the segment that Apple Music tries to provide for is a very niche, upscale audience and presumably users who prefer listening to international over regional music. I created a persona and an empathy map based on the identified target user segment. The demographics, music preference, personality, goals and frustrations of the persona reflects the interviewees lifestyle; as it should be relatable to the presumed end user.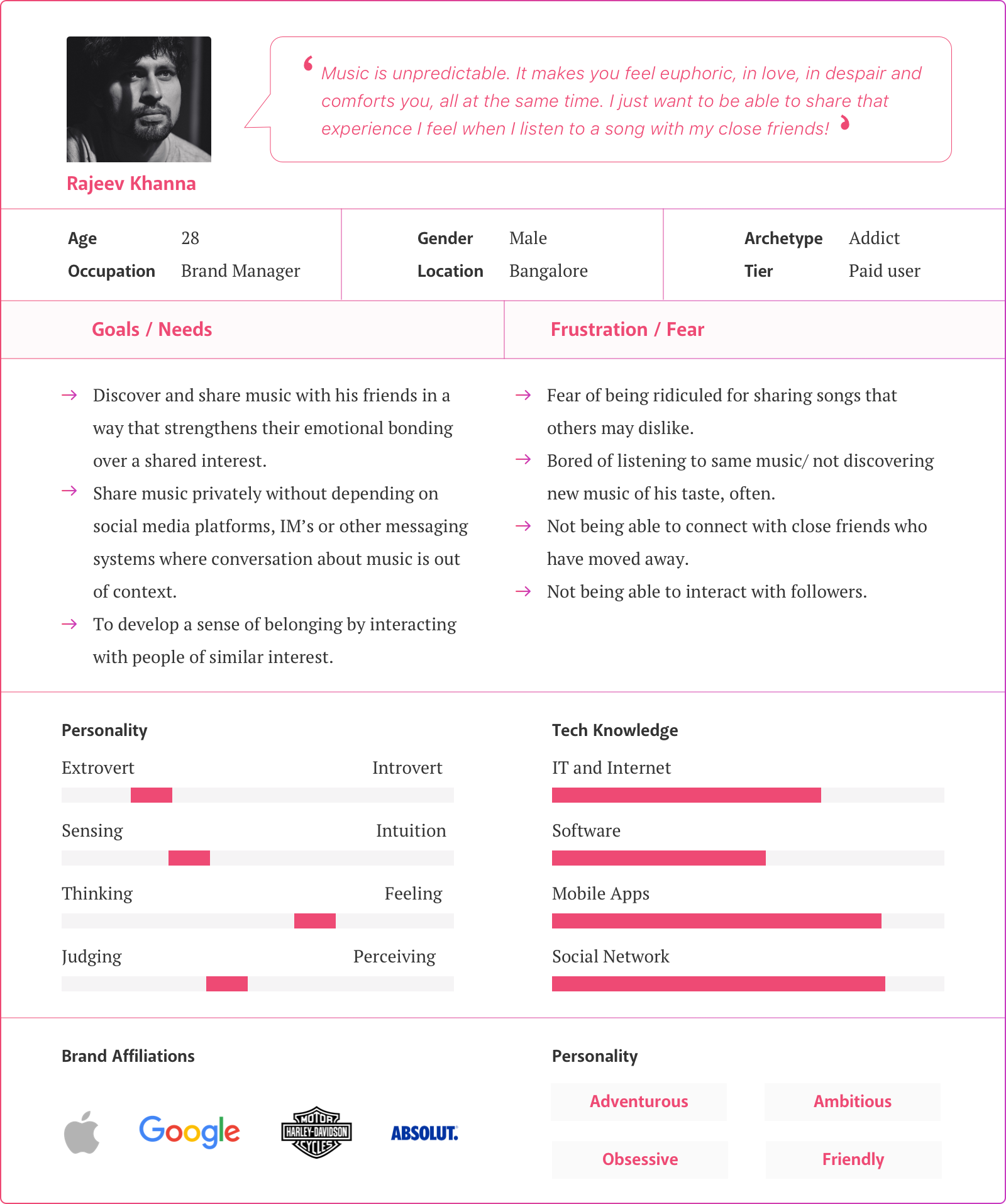 Since most of the findings from my research overlapped with one another, I needed to identify the right challenges to be addressed with the right solution. Creating a POV problem statement helped me define the problem in question in an empathetic manner to be able to come with possible solutions that will address the needs of the users. I formed HMW questions for each of these needs which acted as a guide in the ideation phase to solve design challenges. This was followed up with a brainstorming activity where I came up with multiple possible solutions for each of the identified need and narrowed down on features that will have the maximum value with the minimum effort to implement.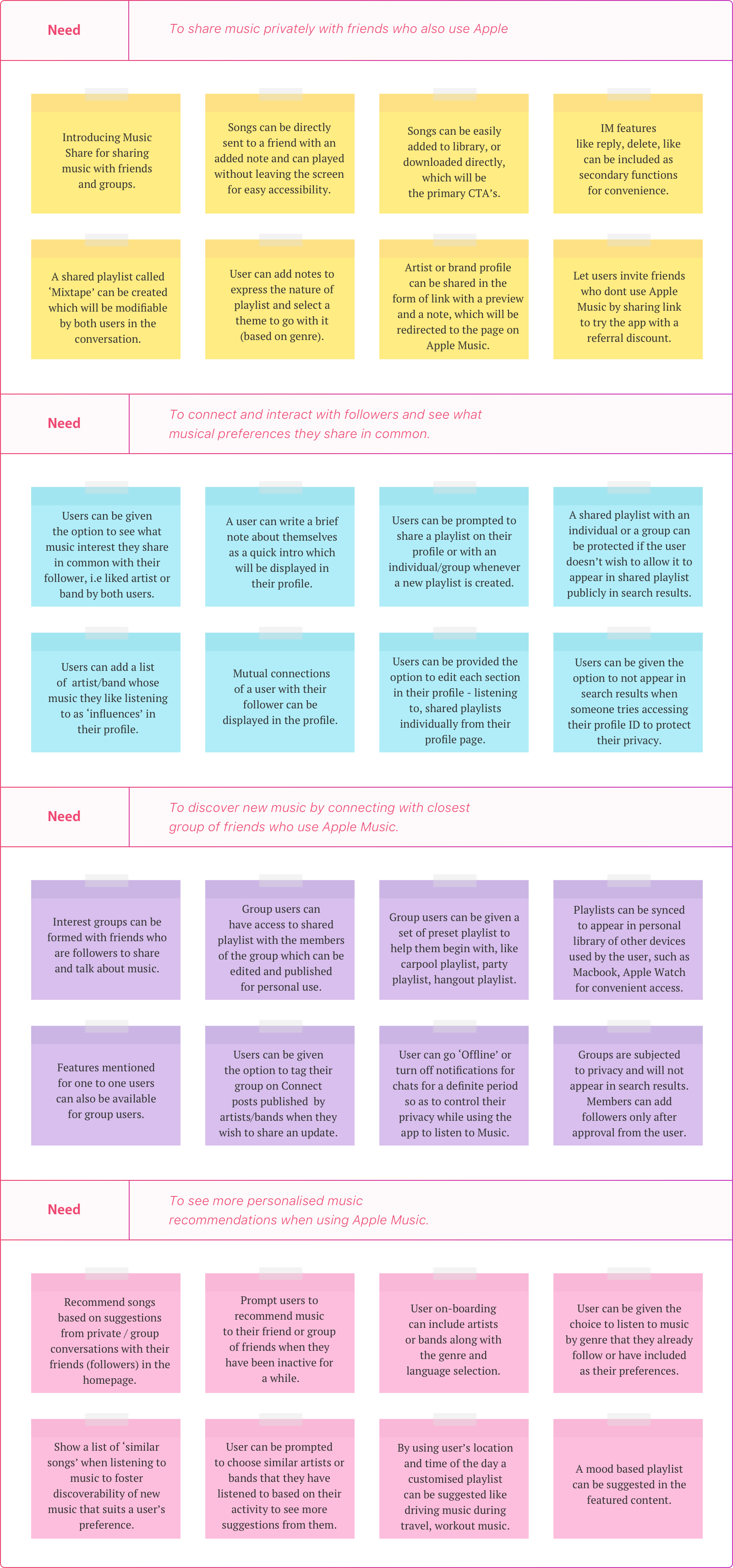 The ideas that stood out from the ideation session are:
‣  The introduction of 'Mixtape' as a form of collaborating playlists and sharing music with friends. A method of sharing music that slowly died with the advent of technology is reminiscent to late Gen-X and early Gen-Y music fanatics. 
‣  Sharing music with followers within the application for easy accessibility. Privacy to the users was an utmost priority and hence a more relaxed version of a messaging system can be built that would help users who wish to be social. It would also help users interact more often thereby increasing the use of the application.
‣ ​​​​​​​ Several pain points concerning 'personalisation' was identified during research. An updated onboarding which will let the users provide inputs for their music preference can help build a better recommendation system by understanding a user's likes and dislikes.
The ideas generated in the brainstorming activity led to the creation of a feature matrix quad which helped narrow down ideas for product features that would generate maximum gain for the user within the feasibility of project timeline. 
I created an Application Map of the existing app along with the newly ideated features to help lay out user flows for each of the identified need and for seamlessly integrating the features into the existing flow for better usability.
After I developed the user flows, I began to flesh out wireframes for each of the observed tasks. At each and every stage of design I had to ensure that the microcopy and chat interface of the application should be familiar to the user, which will enable quicker interactions.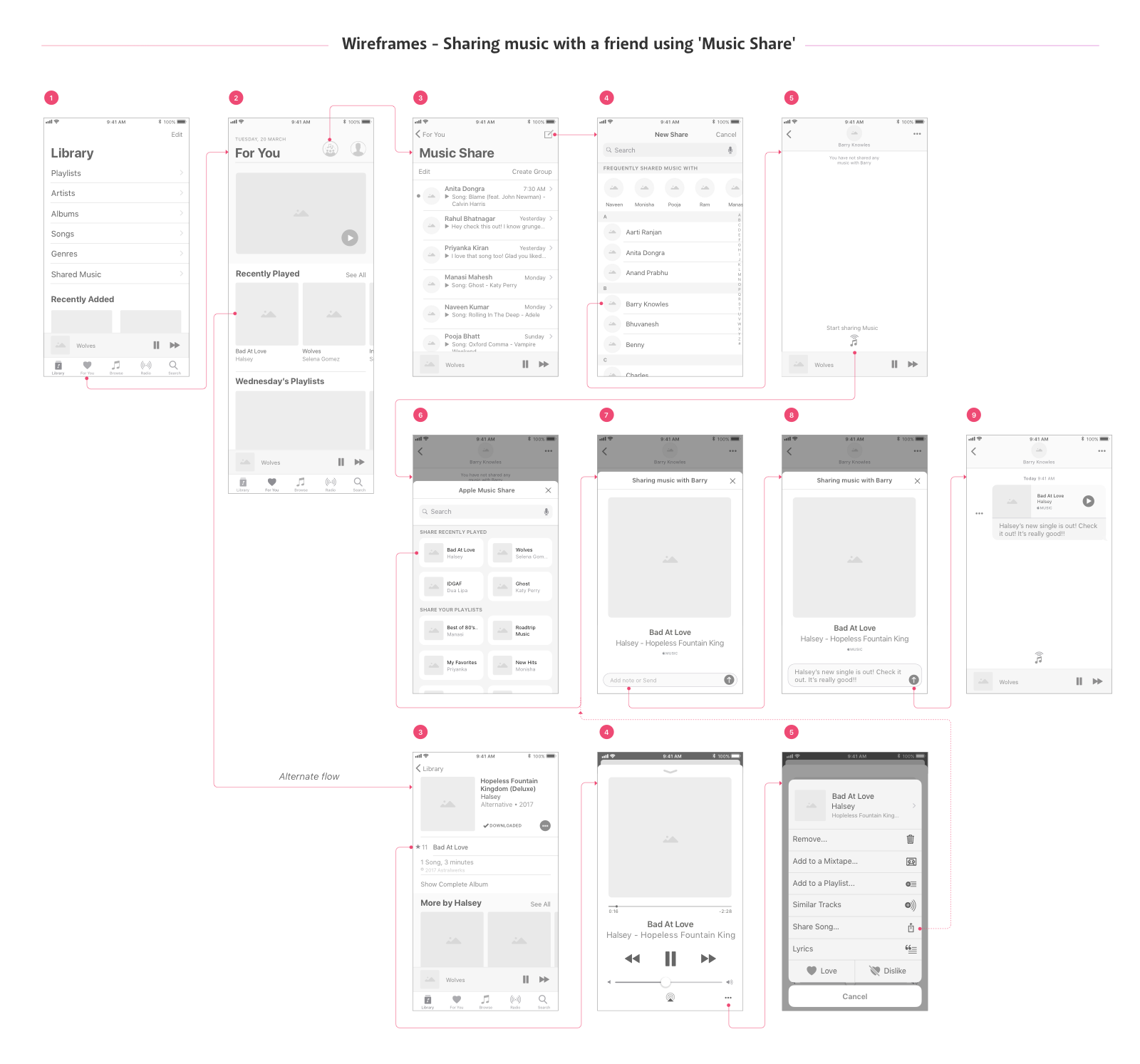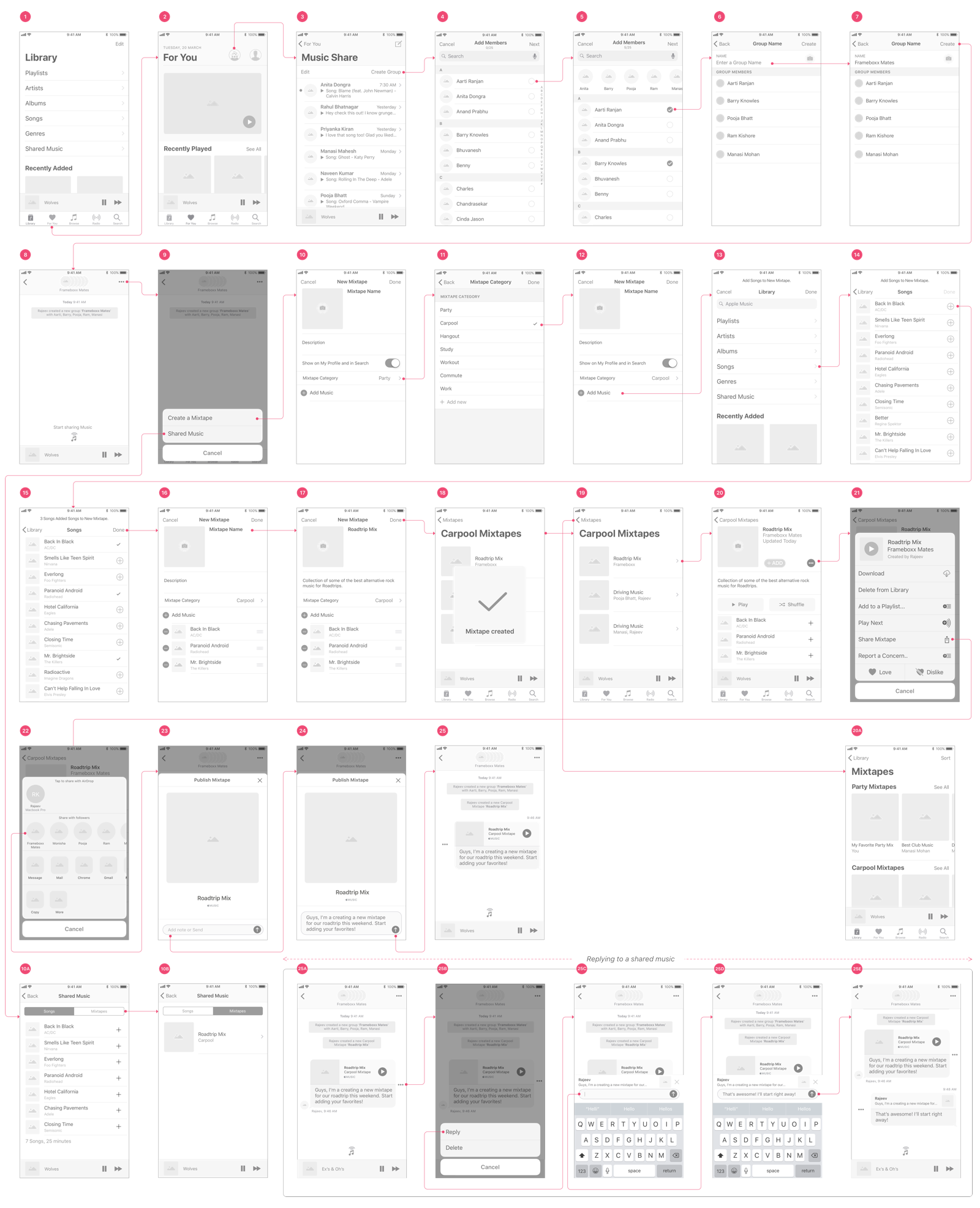 Once the base framework was ready for prototyping I started to work on the user interface design. Since Apple Music is an existing product, I concentrated more on designing the interface for the chat feature, along with other newly added elements which were a part of the redesigned onboarding section and mixtapes.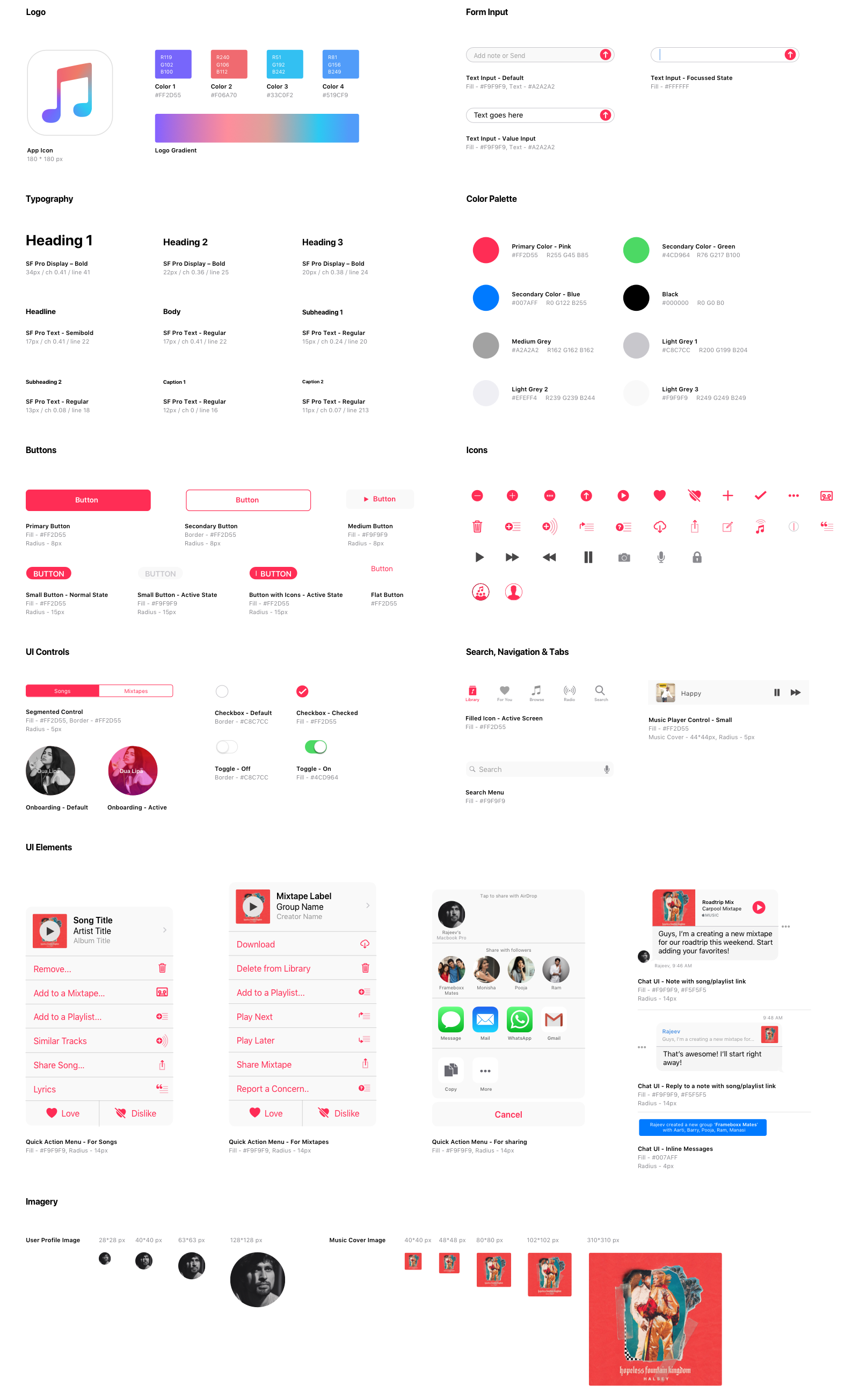 I created a working prototype of the screens using Invision. The task flows observed in the prototype are,
a. Sharing music with a friend using 'Music Share'. 
b. Updated profile page of a user and a follower.
c. Forming a group and creating a Mixtape. 
d. Alternate flow for viewing, creating and sharing a Mixtape. 
e. Changing artists and music preference (onboarding).
High Fidelity Prototype 
(Created using Invision)
Stage 5 | Test & Iteration
A usability testing was conducted using a high fidelity prototype of Apple Music's application using Sketch Cloud. The test was designed to assess the success of the newly developed 'Music Share' feature; its efficiency and usability when performing the designed tasks flows; identify errors and gain user's feedback on their preferences and recommendations and assess the overall success of the prototype. The overall test findings helped identify key areas for improving user interaction and identity error states. 
An affinity map was created based on errors and issues observed during usability testing. The affinity map is segregated into groups of findings in navigation, interface and usability; content and call to action, preferences from participants and recommended course of action to address the issues. The prototype was further updated to accommodate the changes rolled out in affinity map.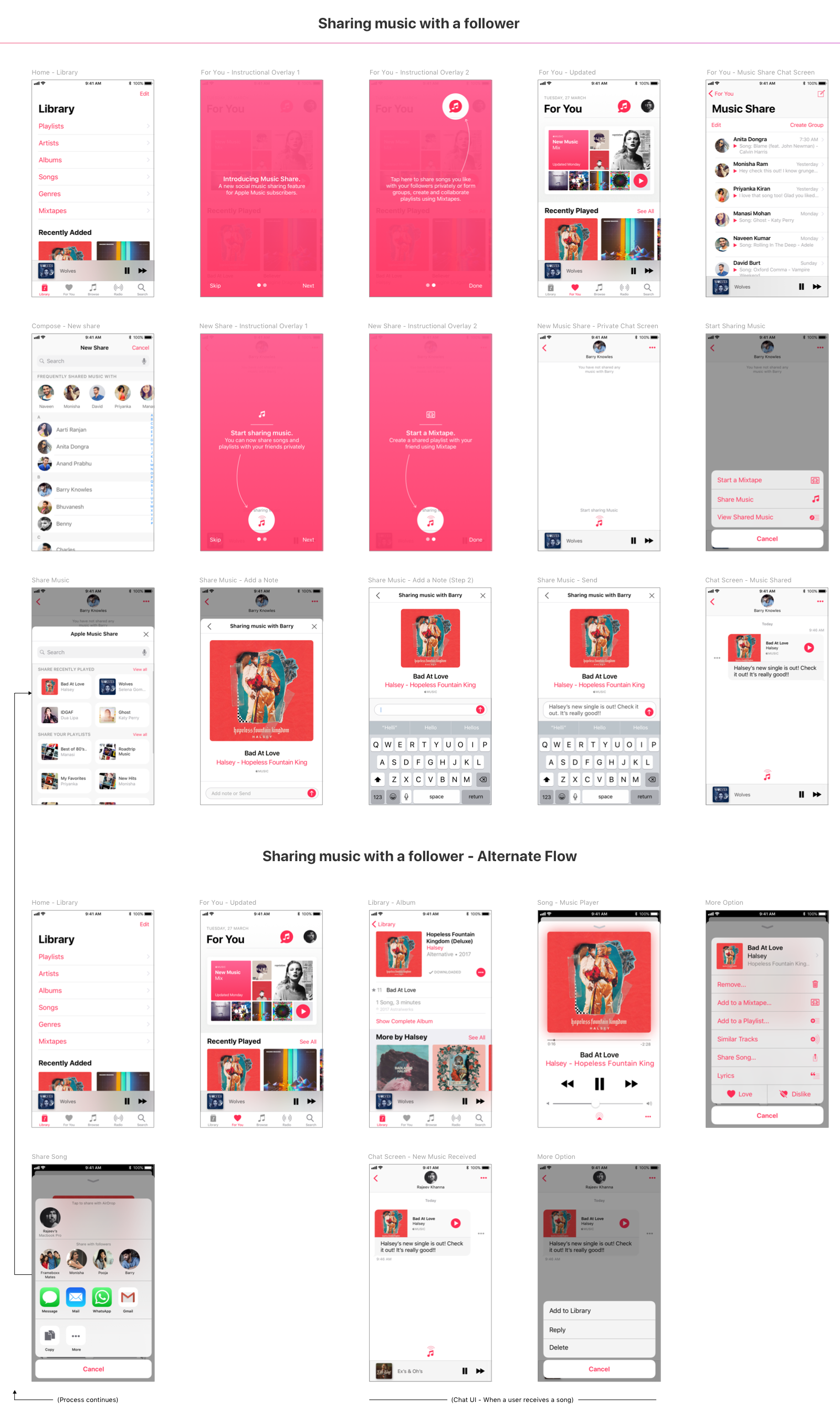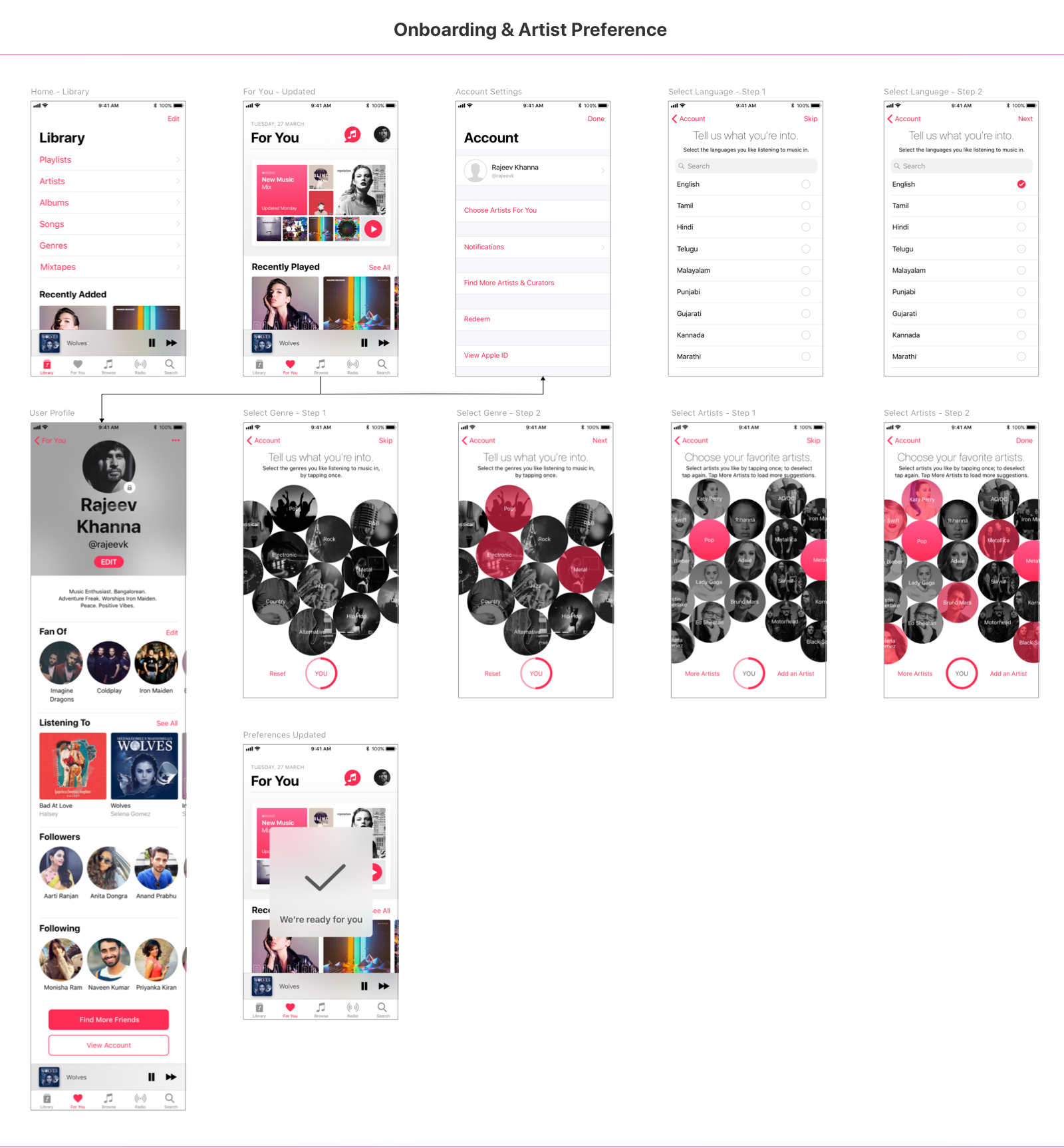 As a music addict myself, working on this project was more interesting and engaging than I expected it to be. Working on a product idea that doesn't exist in the market and with no references in research to act as a guide, I learnt the different ways of approaching and finding solutions to a problem. At each and every stage of the design thinking process, I had to constantly validate ideas and findings with solid reasoning before proceeding with the next steps. Way forward, the updated prototype needs to be tested with the target segment for uncovering errors and possible improvements in usability and interaction.