Climate change is a global crisis, one that demands the participation of every citizen to strike it down. In an effort to jumpstart this united front, teen activist Greta Thunberg initiated a worldwide Climate Strike, which asks individuals to leave their desks and join local walkouts beginning today. These regional strikes are expected to take place in over 150 countries, from Ghana to Ecuador to Pakistan.
In addition to the hundreds of companies that are striking in solidarity today, many design agencies, architecture firms, and other creatives have chosen to strike—and support the effort through their work. Today, artists across several creative industries are not only going on strike, but also creating work that calls attention to the ongoing climate emergency. These architects, designers, artists, and content creators all contribute to the shaping of culture and have pledged to use the impact of their collective voices in media to shift the narrative surrounding our global ecological crisis.
CREATE AND STRIKE is one mobilization effort from the advertising and branding world, aimed at supporting the global strike Thunberg is spearheading. The open letter publicizing it currently has 140 signatories, including industry heavyweights like Bill Scott of Droga5, Sairah Ashman of Wolff Olins, and Sara Tate of TBWA.
These CEOs and founders of creative companies are pledging support for their employees forgoing work on Friday to join the strike and are encouraging them to develop content that amplifies the need for environmental activism.
As a contribution to the @createandstrike initiative we've created a sticker to help spread the word on your social network.

To use the graphic in this tweet open Instagram, search 'Create and Strike' in your stories and apply to your posts. #CREATEANDSTRIKE #ClimateStrike pic.twitter.com/XxH8keI1f0

— The Flash Pack (@itstheflashpack) September 20, 2019
Creative agencies like Revolt, Thinkhouse, and Saatchi and Saatchi will participate in the strike, and the signees are expected to unify and use their creative powers to develop projects that will draw even greater attention to the dire climate situation.
These design projects, which can take the form of a sign or a blimp, will debut at strikes in various places around the world today. As an incentive, the UK Student Climate Network and a panel of creatives will recognize the most innovative and impactful ideas developed in support of climate justice and the end of fossil fuels. The winners will be announced sometime in October.
Jonathan Wise, cofounder of the Comms Lab and member of the Purpose Disruptors, said: "There is a tremendous, emerging energy within the creative industries to want to help address our climate and ecological emergency. The Global Climate Strike represents a clear opportunity to use our special powers to amplify young people's message. We hope the energy and work generated in support of the strike helps deepen the industry's engagement and commitment to climate change so we [get] what is needed in the coming months and years."
Coming along to the #climatestrike on Friday? We've got your out-of-office sorted. Working as part of @createandstrike, we've created a variety of OOOs for our fellow strikers to use on the day. Head to: https://t.co/fZk1Ri69c7 pic.twitter.com/OXnax8oMoz

— Digitas UK (@Digitas_UK) September 19, 2019
It isn't the only designer-led resource for climate strikers. The Climate Strike Arts Kit is a collection of posters, prints, murals, and images that are free for anyone to download from a shared Google Doc.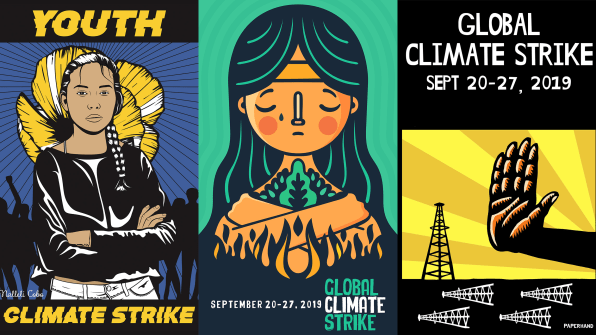 Meanwhile Glug, the U.K.-based arts event organizer, is asking designers to submit their designs to a database that it hopes will become "the world's largest open-access database of protest posters." The full database is accessible here. "We encourage the use of meme-like content, slapstick imagery, comedy, banter, stupid phrasing, and downright light-hearted mockery if needed," the group writes.
People in other creative industries are organizing in their respective fields as well. Artists like Olafur Eliasson are striking for the climate too, with members of the artist's studio stepping out in Berlin.  The advocacy group Architects Advocate launched its own effort to support the global climate strike and requests the attendance of Chicago-based architects at Federal Plaza today to show support. But hundreds of architecture firms all over the country have signed on to participate in their respective cities, including Brooks Scarpa, Bohlin Cywinski Jackson, Skidmore, Owings & Merrill, and others.
"In July this year, German Chancellor Angela Merkel credited Greta for driving her government to act faster on climate change," writes cofounder Tom Jacobs on the website. "The same can and must happen here."