Setting a basic color theme for your web design project might be an easy task, however, deciding upon the right combinations or coming up with a color scheme may get tricky, especially when you don't know which color tool would work best for you.
So to help determine the best color schemes for your projects, here are some of the best color tools for webs designers. Let's check out the list.
Read Also: Open Color – UI-Optimized color scheme for designers
You may know this tool by its previous name Adobe Kuler. It's one of the most popular features by Adobe allowing you to combine colors.
ColourLovers is an online community of color lovers. It contains images and their color palettes, so you can use them for your own work.
Coolors is a quick color scheme generator. It allows users to create and share color palettes in no time. It chooses the main color of the images and finds perfect color combinations.
Color Snapper 2 is a tool created for OS X Yosemite. It was made for graphic designers so they can play, modify, adjust, organize, save, and export colors on the screen.
Colordot is a great website and iOS app allowing you to create and share color schemes. You can choose color with a finger or a camera.
Adobe Capture CC allows you to take a picture of anything you like and turn it into a color palette, create a brush, and pattern. It's available on desktop and mobile.
LOL Colors is one of the services created by Mackenzie Child. It's a website with curated color palettes. Every colorful teardrop is clickable with ready-to-copy hex codes.
Gradients.io lets visitors use gradient fills for their images. The website contains a page full of squares in different color palettes with their hex codes for easier usage.
CheckMyColours helps you combine foreground and background colors of all DOM elements. It's created to check if the colors pairing create a proper contrast for people with color deficits.
Color Hunter is a useful tool for designers. Just find an image you like and upload it (or enter image URL) to the website. The service will create a color palette from your chosen image.
TinEye allows you to extract color from over 20 million Creative Common images from Flickr. Just select a color, slide dividers to adjust the color and add tags to your search.
Paletton is made to help graphic designers create websites with proper color combinations. You can also use pre-made color palettes in a chosen color.
Colorspire is a 3-steps color palette builder. You can choose a base color, then create a color scheme, and see huge colors preview.
Color Explorer is one of the most in-depth color tools available out there. With its help, you can create, analyze, and customize your color schemes. It's absolutely free.
0to255 will help you to find darker and lighter shades of one color. It can be used to find a range of shades for one particular color.
ColorRotate is a helpful color editing app for tablets. WIth 3D color scope, you can take a full control of colors of a subject.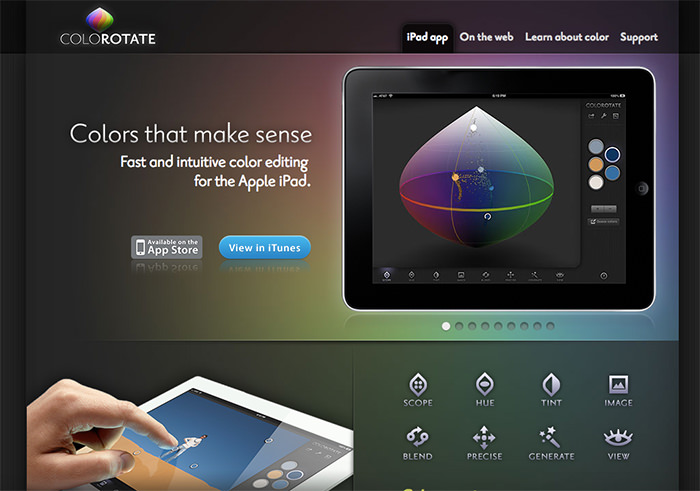 SpyColor.com is a free app that provides information about any color, including conversions to many color models, such as RGB, CMYK, HSL, HSV, and much more. You can create various color schemes, for example, complementary, split-complementary, triadic, tetradic, five-tone, clash and more.
Read Also: Find Awesome User-curated Color Palettes with Color Hunt
On this site, you can select up to five hues from a full-page palette. Then, it will generate a display of all the images in its database with this color combination.
ColorMunki lets you create your own colors. You can create color palettes, find similar colors, and properly match them.
This service created for Apple users will help you to explore the world of colors and find new shades. You can discover color harmonies, values, and cross-references.
ColorZilla is Firefox and Google Chrome plugin extension that includes a color picker, eye-dropper, CSS gradient generator and palette browser.
Color Hunt is a new social media channel for color lovers. You can discover carefully picked color palettes, and choose some Hot, Popular or Random color schemes to use in your future designs.
Material UI Colors is an amazing service to choose contrasting colors for material design.
ColorDrop showcases hundreds of amazing color palettes you can use. For easier navigation, use sections "Favourites" and "Flat Colors".