Summary: The practice of Design Operations focuses on processes and measures that support designers in creating consistent, quality designs.
What Is Design Operations (DesignOps)?
Definition: DesignOps refers to the orchestration and optimization of people, processes, and tools in order to amplify design's value and impact at scale.

 
DesignOps is a collective term for addressing challenges such as:
growing and evolving design teams
finding and hiring people with the right skills
creating efficient workflows
improving the quality and impact of design outputs.
The goal of DesignOps is to establish processes and measures that support scalable solutions for these challenges, so that designers can focus on designing and researching.
All fields must figure out how to mitigate growing amounts of bureaucracy and overhead communications as they scale. Each field will have its own solutions, and DesignOps is ours. However, UX professionals have more need than most for figuring out how to efficiently handle "more." We often grow at a faster rate than the rest of the company, as the organization realizes the value and high ROI of UX and begins to expeditiously add staff and responsibility to the UX team.
DesignOps Applies to All UX Professionals
Though we use the blanket terms "design" and "designer" throughout this discussion, DesignOps applies to anyone using user-centered and design-thinking processes to solve problems. The term "designer," then, includes UX designers, user researchers, visual designers, content strategists, service designers, communication designers, and anyone else contributing to the end user experience.
Why DesignOps Matters Now
Shifts are happening in the way designers work and interact with each other and other teams, and these shifts are shining a light on the necessity of DesignOps.
In many ways, designers have won the fight to be "at the table." More and more, we are part of broad, strategic conversations, and many organizations don't need to be convinced of the value of design anymore. They get it. (Yay! What a time to be alive!)
Unfortunately, this recognition often means that we must manage the additional workload of being involved in strategic work alongside our "day jobs" of designing and researching. In short: Designers are often too busy to design.
Couple this reality with the fact that designers are wrangling more complex contexts than ever before: As many organizations embrace embedded product- or project-specific team models, there is a growing lack of connection among designers who are spread across those teams. The products and experiences we design continue to become more elaborate, and teams are often dispersed across locations; as a result, workflows and decision making are increasingly distributed.
In order to manage rapidly escalating design complexities, we need to scale design by applying our own design-thinking and user-centered methods to design processes. (Meta, I know.)
Components of Design Operations
DesignOps is an intentionally broad topic, because there are many elements related to enabling consistent, quality design.
I like to think of DesignOps a bit like a curated potluck dinner. There are a lot of components within DesignOps, and what an organization chooses to select — or to pass on — should depend on the current needs and most poignant painpoints of that organization. So, the shape of DesignOps will and should look very different from one organization to the next. And the focus of DesignOps within a single organization might shift as challenges evolve or change over time.
The DesignOps Menu
Here is the comprehensive DesignOps menu: the universe of elements that organizations might choose to focus on when planning and implementing processes to support designers. There are three main areas:
How we work together
How we get our work done
How our work creates impact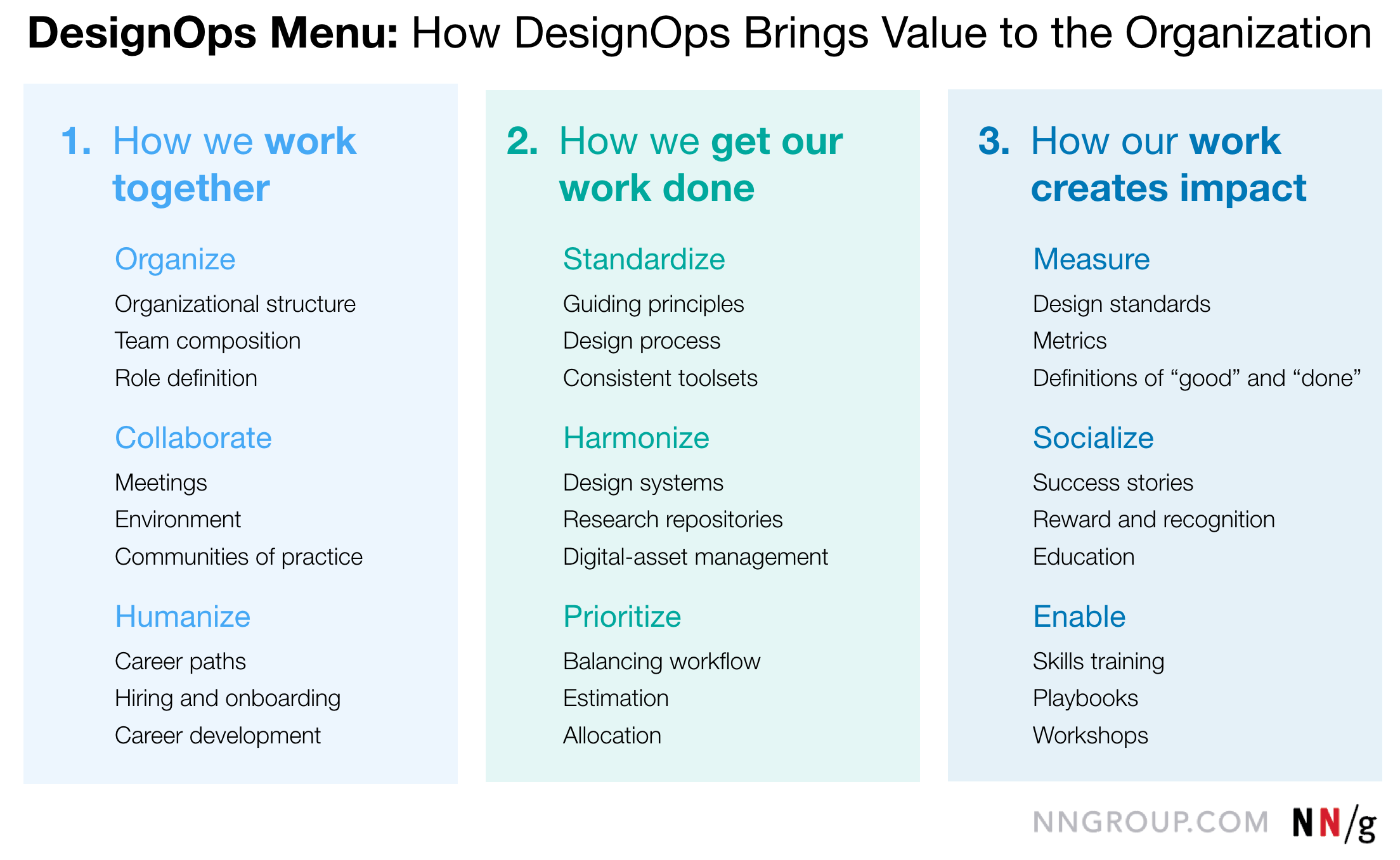 How We Work Together
DesignOps helps us plan for how we:
Organize: How do we structure our teams, and build the right team? Organizing may include:

Designing organizational structure for design teams
Creating complementary, skills-complete design teams
Defining both the role of individual designers, and the role of the design department as a whole

Collaborate: How do we create environments and gatherings that enable effective communication? The collaborate component could include:

Defining a structure for regular rituals and meetings
Ensuring that group spaces and environments are conducive to collaboration
Establishing communities of practice for skills and interest sharing

Humanize: How do we ensure that hiring, onboarding, and professional-development practices treat employees like humans first? Humanizing could encompass:

Designing interviewing practices that are specific to the needs of the design team
Establishing consistent hiring and onboarding practices to set up new team members for success
Standardizing transparent career pathways for both management and non-management roles
How We Get Our Work Done
DesignOps helps us plan for how we:
Standardize: How do we facilitate design quality through consistent toolsets and processes? Standardizing might cover:

Documenting and optimizing the high-level design process, from initiation through testing to delivery
Defining and aligning purposeful design activities within the design process
Auditing and enforcing the use of the same design tools for efficient collaboration

Harmonize: How do we share and expand design intelligence so that we all work from the same shared understanding and build common ground? Harmonizing may include:

Scaling and managing design systems to create efficiencies for designers
Building repositories of user-research data that are accessible to everyone
Using digital-asset managers (DAMS) or other systems to share design assets and templates among team members

Prioritize: How do we make decisions about what projects to work on, and when to work on them? Prioritizing might consist of:

Uncovering and exposing bottlenecks in the design workflow
Understanding design-team capacity in order to accurately estimate and allocate projects
Using objective and consistent methods to prioritize features or projects
How Our Work Creates Impact
Finally, DesignOps can help us think about how to:
Measure: How do we make design accountable by defining and measuring design quality? Measuring could encompass:

Creating definitions of "good" and "done" for design teams
Choosing and aligning metrics for design quality, and tracking those metrics over time
Creating and using design principles throughout the design process as objective measures

Socialize: How we educate others on the role and value of design? Socializing could consist of:

Crafting a consistent message of the role and value of design, and proactively sharing that message with design partners
Capturing and sharing success stories of user-centered design processes
Recognizing and rewarding teams that apply design practices to their work

Enable: How do we cultivate the understanding and use of design activities, even by those outside of the design team. Enabling might include:

Educating people outside of the design team on how to use design tools and activities
Creating accessible design-activity playbooks to avoid the design-team-as-bottleneck challenge
Implementing skill training to ensure that activities are understood and used appropriately
Adapt DesignOps Components to Your Organization
It's impossible for a single person or team to focus on all of these components at once. DesignOps teams and thinkers recognize and target areas of particular gravity for a specific context.
Before embarking on DesignOps, plan internal research (e.g., listening tours, stakeholder interviews, and surveys) to assess the biggest pain points and the areas with the highest potential ROI, and start there.
Who "Does" DesignOps?
Anyone can do DesignOps. There are two approaches to thinking about DesignOps that help you determine how to approach it within your organization: DesignOps the Role and DesignOps the Mindset.
DesignOps the Role
DesignOps the Role means that there is a specific person or group of people tasked with ensuring that the design team is supported so that it can focus on designing or researching. In more mature practices, common DesignOps roles are:
Design producers or UX producers: People concerned with project-level design operations
Design program managers or UX program managers: People tasked with program- or organization-level design operations
ResearchOps specialists: People responsible for owning the operational aspects of user research, such as sourcing and screening participants, overseeing the research-request pipeline, maintaining a research repository, and managing research tools, spaces and equipment
Not every organization needs DesignOps the Role. Very large teams, embedded teams, or agencies with short timelines and lots of moving parts may need DesignOps the Role before other types of teams.
DesignOps the Mindset
Any team, however, can benefit from DesignOps the Mindset, which simply means recognizing the need for and implementing an ecosystem, or a set of standardized processes, methods, and tools that support design and allow design to scale efficiently. No DesignOps-explicit role is required to observe current processes with an eye toward increasing efficiencies and bettering outputs.
A Call for DesignOps
DesignOps is the glue that holds the design organization together, and the bridge that enables collaboration among cross-disciplinary team members.
DesignOps cannot be an afterthought in a landscape where design teams continue to grow in size, UX work continues to be requested at an increasing rate, design-team members continue to become dispersed, and the complexity of our design processes skyrockets.
How we work together, how we get our work done, and how our work creates impact must be intentionally and intelligently crafted.
Learn More about DesignOps
Learn more about DesignOps in our full day course, "DesignOps: Scaling UX and User Research."