Are you looking for the best WordPress giveaway plugins to run viral campaigns on your website?
Giveaway plugins for WordPress allow you to efficiently run a giveaway contest on your website. They allow you to maximize the incoming traffic and help you get tons of new visitors.
In this article, we will show you the best WordPress giveaway plugins to help you boost traffic, get subscribers, and improve your brand image.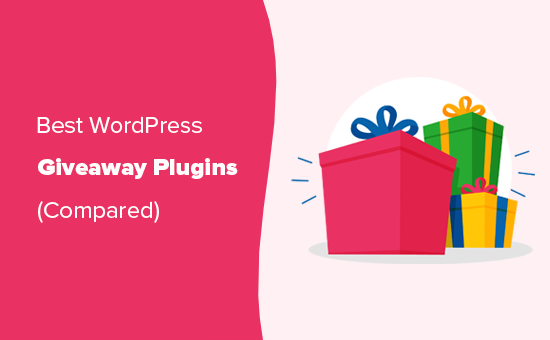 What to Look for in a WordPress Giveaway Plugin?
There are plenty of WordPress contest and giveaway plugins in the market, but not all of them have the specific features that you may need for creating a successful viral giveaway.
Some of them are good at helping you grow your email list while others are optimized to help you get more social media followers.
You need a WordPress giveaway plugin that combines the best of all features to help you increase your website traffic, grow your email list, and get more social media followers.
You also need to make sure that the plugin does not slow down your website.
Last but not least, you want to consider the costs and make sure that they are reasonable.
With that said, lets take a look at the best WordPress giveaway, contest, and sweepstakes plugin.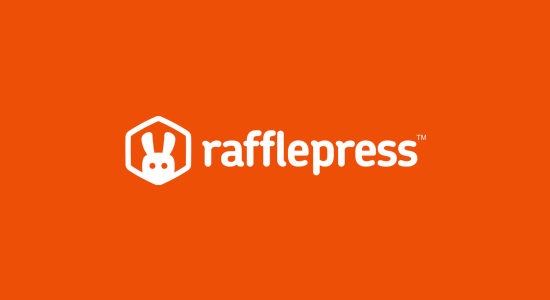 RafflePress is the best WordPress giveaway plugin on the market. It allows you to easily create highly effective viral contests and giveaways on your website.
It connects with all top email marketing platforms, so you can grow your email list.
You can also connect with popular social media platforms to get more followers and grow your website traffic from various social sharing actions.
RafflePress comes with a drag and drop giveaway builder which makes it easy to quickly build viral contests. It also has built-in templates to make the giveaway creation process even faster.
The refer-a-friend giveaway feature allows you to leverage word of mouth marketing by allowing users to share the giveaway on their social media profiles. This builds engagement and gets you tons of new visitors to your website.
RafflePress plugin also works with all WordPress form plugins, CRM Software, social networks, and lead generation software.
You also get tons of other powerful features like fraud protection, success tracking, retargeting, social logins, email verification, prize gallery, giveaway landing pages, and a whole lot more.
The giveaway works on mobile phones just as beautifully as laptops. You can also fully customize the giveaway appearance with your own images, colors, and fonts.
RafflePress has a free version available in WordPress.org directory, RafflePress lite, which you can try for free. To unlock the full power of RafflePress, you would need to purchase RafflePress Pro.
For more information, see our tutorial on how to run a giveaway / contest in WordPress with RafflePress.
Pricing: As mentioned above, RafflePress offers a free version that will help you get quick wins. However if you want all the powerful features, then the Growth plan costs $159 / year which is by far the best value compared to any other giveaway plugin in the market. For small business, their Plus plan ($39 / year) and Pro plan ($79 / year) are very well priced.
Note: WPBeginner users can get 20% discount on their purchase by using our RafflePress coupon code: WPBEGINNER20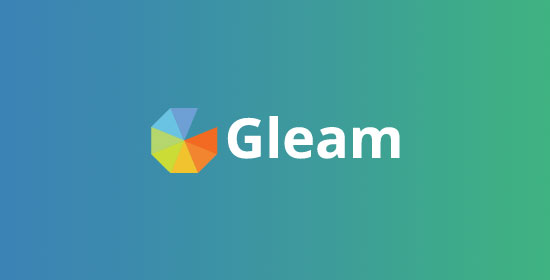 Gleam is a popular giveaway app that works with WordPress sites. It is available as a SaaS (Software as a Service) app for website owners to create giveaway and referral marketing campaigns.
There giveaway platform is extremely robust however the user interface for setting up a giveaway is not beginner friendly. There's a setup wizard to connect your email email service, social profiles, and select actions for qualifying entries.
Once you have created the giveaway, you'll be given a code snippet to paste in WordPress post or page where you want to add the contest.
Gleam also creates a separate giveaway landing page on their own website that you can use to promote the contest on social media.
All your contest data is stored on the Gleam website, and there are limited export options for user data. You will also need to upgrade to the Business plan to remove their branding and logo from your campaigns.
Pricing: The Business plan costs $149 per month which is what you need to unlock most of their powerful features. While they have lower level plans such as Hobby plan ($10 per month) and Pro plan ($49 per month), they are limited in features / integrations. Their free plan is extremely limited and is not even worth mentioning.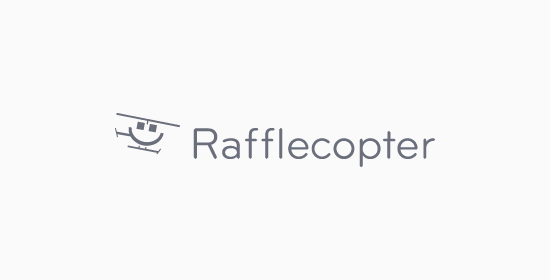 Rafflecopter is a popular giveaway / sweepstakes app for all kind of websites. It is available as a SaaS app, which means you'll need to add the giveaway widget to your WordPress site using a code snippet.
It works with all major email marketing services and offers integrations with popular social media networks. Rafflecopter also comes with refer-a-friend feature, polls and survey options.
You can easily customize the appearance of the giveaway widget with your own images and background.
Rafflecopter has a limited free plan, and you'll need to upgrade to one of their paid plans to truly make the most out of it.
Pricing: Basic plan costs ($13 per month) which gives you few additional features. If you want email integrations, then you will need to use their Grow plan ($43 per month). The ability to remove Rafflecopter branding and the powerful refer a friend feature is only available in their Premium plan ($84 per month).
Simple Giveaways is another good option to create a giveaway on your WordPress site. It is available as a limited free version, but you will need the paid plugin to access most features.
You can create your giveaway using their simple interface. The plugin allows you to add multiple ways to submit entries for the giveaway.
It has limited entry options and allows you to integrate Facebook, Twitter, few email marketing services, and other WordPress plugins. It also includes fraud protection with Match CAPTCHA and basic tracking reports for your contest.
Pricing: The premium version starts at $49 per year for 1 site.
KingSumo is a premium WordPress giveaway and referral marketing plugin. It comes with a simple user interface which allows you to easily create a viral giveaway.
It includes social sharing options for Facebook, Twitter, Facebook Messenger, and Instagram. It also works with several popular email services to grow your email list.
The plugin version of KingSumo is a bit outdated, and they have a new SaaS giveaway product that's being promoted on the website.
Pricing: The SaaS giveaway app costs $228 / year. You can get the WordPress plugin version licensed at $198 for 1 site or $594 for unlimited sites.

WP Contest Creator is another good option to add giveaway contests to your WordPress site. It allows you to connect with popular email services, and you can create different social interactions for users to earn entries.
It also allows you to automatically send emails to users when they enter the giveaway. You can utilize these emails to tell users how they can increase their chances of winning.
Optionally, you can add gamification to your contest by displaying a leaderboard of participants with the highest entry scores.
It also provides some design options, but they are not as easy to follow as other solutions mentioned in the list. The plugin's backend is also a bit complicated and beginners may find it a bit difficult to use.
Pricing: $69 / year for a single site license.
Which is The Best Giveaway Plugin for WordPress?
All the solutions we mentioned above allow you to run giveaway contests on your WordPress site. However, they each differ in terms of features, ease of use, speed, pricing, and privacy.
We believe RafflePress to be the overall best WordPress giveaway plugin for all users. It is extremely easy to use and comes with an intuitive drag and drop builder.
It runs on your own website, so you have full control of the data and user interactions. RafflePress also comes with success tracking and retargeting features which make your campaigns even more powerful. Their pricing is also by far the most affordable in the list.
If you don't mind adding code to your WordPress site or run your giveaway on a SaaS platform, then Gleam and Rafflecopter can be a good option, but their premium versions are very pricey.
We hope this article helped you find the best giveaway plugin for your WordPress site. You may also want to see our guide on how to get more traffic to your website with practical tips.
If you liked this article, then please subscribe to our YouTube Channel for WordPress video tutorials. You can also find us on Twitter and Facebook.