Stéphanie Walter
Senior UX Designer – Mobile Expert
Senior UX Designer. Mobile Expert. Public speaker. Blog writer. Google Dev Expert Product Design (GDE)
A few days ago I facilitated a series of two evenings of workshop on for WIDE, Women in Digital Empowerment in Luxembourg. This workshop is was called "User eXperience – starter crash course". The audience was a nice mix between students and entrepreneurs with a project/ website. The goal was to help them discover how to build a product with a user centric approach and why companies should focus on users needs and talk to their potential users as soon as possible.
In this article, you will find the slides of the workshop. At the end of the articles, you can download a small "UX Starter Kit" I created. It contains templates to build a product concept, a user journey map, a user flow kit, some mobile, tablet and desktop templates for paper prototyping and a guerrilla usability testing checklist.
The "User eXperience – starter crash course" workshop
From product definition to guerrilla testing
I started my workshop with an introduction to help participants understand some of the different  "flavours" of design: visual design, user interface (UI) design and of course user experience (UX) design.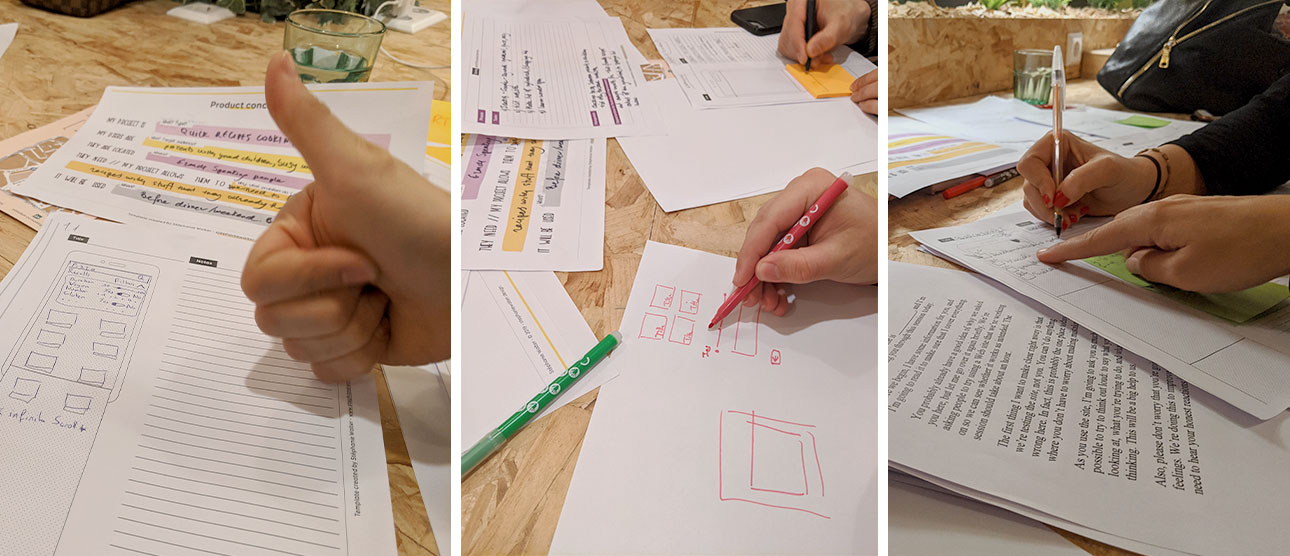 Participants then worked in groups on a small project that lead them through different aspects of building a user centric product. We started with some tips to define clear product definition. Then the groups discovered the basics of user research: different techniques to get to know their users even on a small budget. Participants where then encouraged to interview some people and given some interview data to help them build a user journey map for their product. This map helped them identify main user goals but also potential pain-points in their product. Based on this map participants where able to create a user flow: a prototype of the path taken by the user to complete the main task in their product. Based on that flow, participants had a list of the main pages they needed and where able to create some mobile paper prototypes of those pages. Last but not least, participants then tested those quick "paper prototypes" in a guerrilla usability testing sessions with other participants player the role of the users.
The goal of this workshop is of course not to build the perfect product, but for participants to learn about UX jargon, experiment with UX methods that will  help them build
The slides
If you are curious you can find the slides I used for the workshop here. On top of those slides, I also give participants some cheat-sheets to help them with each exercice.

Interested in such a workshop?
If you are interested to get such a workshop for your company or your event, shoot me an email and we'll figure out something!
Get the free "UX Starter Kit"
To facilitate this workshop, I created a small kit that contains templates to help participants with each exercice. This kit contains the following items:
A Product Concept template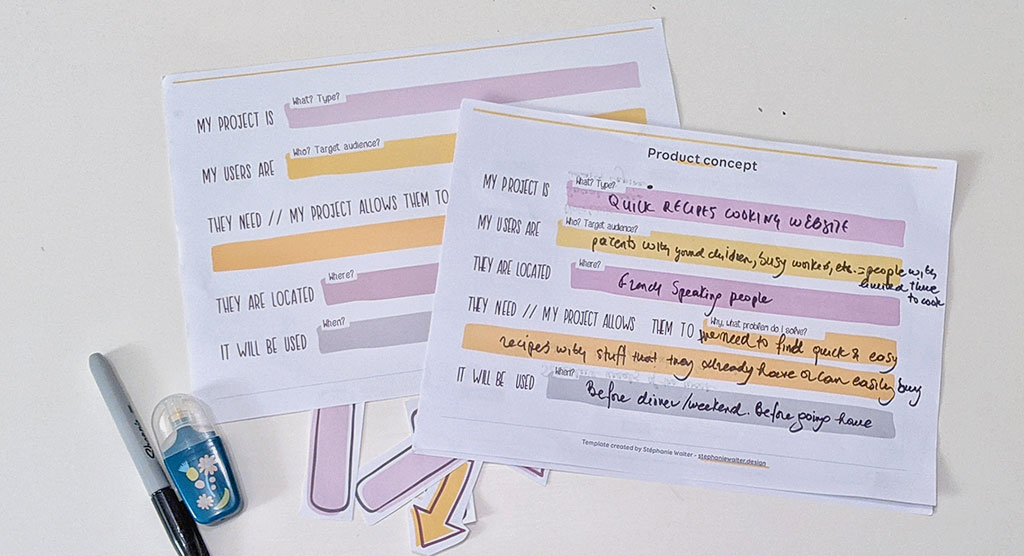 This template will help your teams define and summarise a clear product definition.
A User Journey Map canvas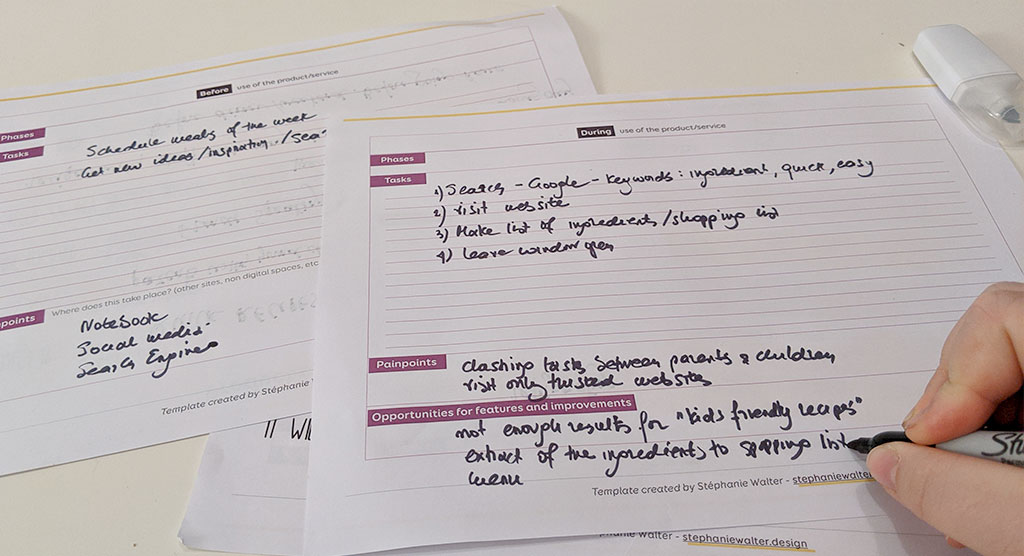 The experience of your users doesn't start with your product. A User Journey Map lets you map the whole experience within your product/service but also before and after to identify pain points and opportunities for improvement.
A User Flow kit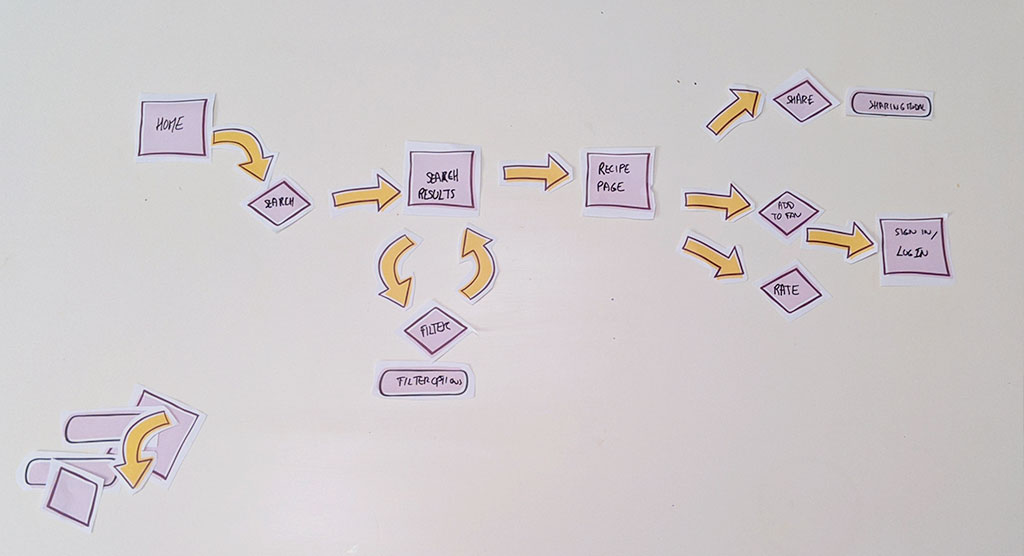 The kit contains different types of arrows and some geometric shapes to let you created a user flow. I usually use squares for "pages/views", diamonds for actions and bubbles for modals/popups or small interactions that stay on the main page. But it's up to you ?
Printable mobile, tablet and desktop templates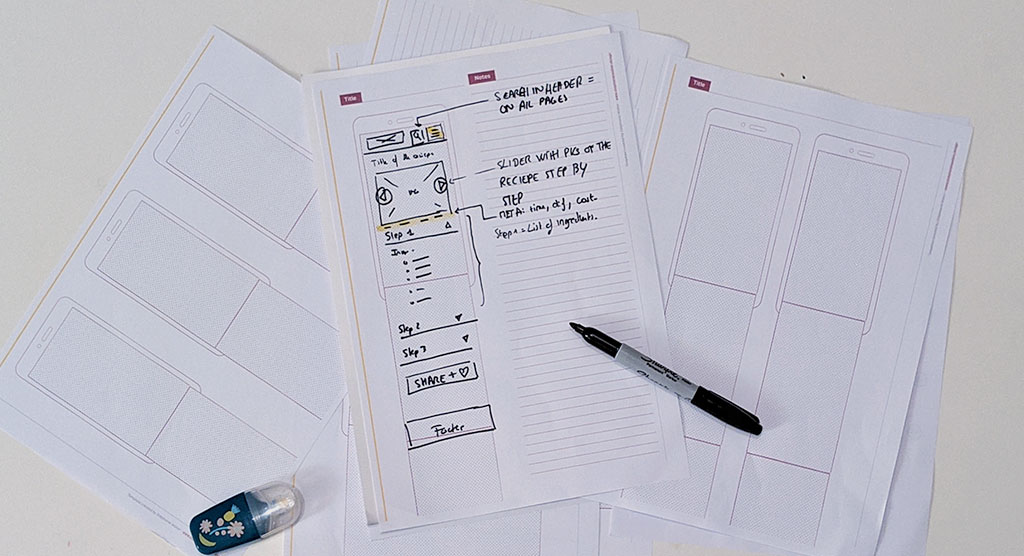 The kit contains different paper prototype templates for mobile, tablet and desktop, with or without notes. Each template has some little dots to help you draw your quick prototypes.
A Guerrilla Usability Testing checklist
Last but not least, the kit contains a big checklist to help you with guerrilla usability testing (face to face, in your office or remote). This goes through the different steps of a test, from "Preparing the test" to "Before the test", "During the test", "End of the test" to "Synthesis and findings".
Are you looking for a UX or UI designer, for a site or mobile application? Do you want me to give a talk at your conference, or simply want to know more about me? You can take a look at my portfolio and contact me.