Are you thinking about seizing some of the online opportunities the Internet offers? Don't you think it's high time you started thinking globally instead of locally?
All of this starts with building a website and coming up with an online marketing strategy that will drive your target audience to it, resulting in sales and profit.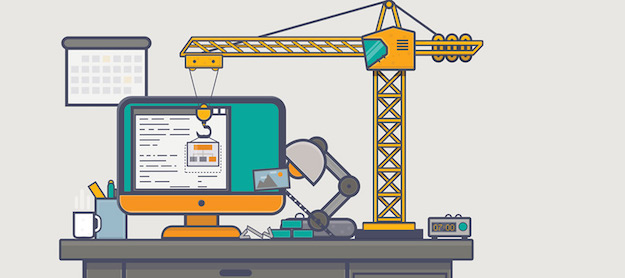 Regardless of niche and industry, building a website is your first step to taking your business to the digital world, and that's why we created a quick guide that covers all of the main aspects of creating a website.
There are 4 decisions you'll have to make prior to launching your site: the type of platform you're going to use to build your website, the domain name, your web hosting provider, and the design and content for your site.
1. Choose the Type of Website-Building Platform to Go For
The initial question that you will be asking yourself is what platform or website builder to go for. Choosing the right website-building platform is very important because the choice of your hosting provider and the future of your website depends on it.
Naturally, the type of site you want is going to dictate the website builder you pick. For example, BigCommerce would be an obvious choice for an e-commerce website, since it's a platform tailored to meet the demands of businesses that sell online.
On the other hand, WordPress is the most commonly used and most popular website building-platform, as well as a safe choice for most websites. In fact, 35% of all active websites are created on WordPress.
The reason behind this is the flexibility that WordPress offers, the variety of plugins, the huge selection of free templates, and the fact that it's a beginner-friendly platform that doesn't require any coding knowledge.
If you think that these are the features that your website needs, go for WordPress. If not, check out what Drupal, Joomla, Wix, Launchrock, Squarespace, Weebly, and other platforms can offer you instead.
2. Select the Perfect Domain Name for Your Site
Next is the topic of domain name. The perfect domain name will make you stand out from the competition so consumers choose you instead of them.
Here are some tips that'll help you choose a winning domain name:
1. Your domain name should be easy to type, easy to pronounce, and easy to remember.

2. You should go with the .com extension because most people will add it to your brand name by default.

3. Choose a one or two-word domain name excluding any numbers or symbols that can create confusion or mislead your customers.

4. Invent new words or use some interesting existing words that will make your domain name stand out from the competition.

5. Follow the examples of some successful companies that have created original brand names, such as Nike, Adidas, IBM, Apple, etc.
If you follow these guidelines and brainstorm a little, creating a domain name for your business should be simple enough.
The next step is to check whether the domain name you have chosen is available and make a purchase. All of this is available at Domain Name Sanity, where you can also get suggestions if your preferred domain name is taken. They also offer web hosting, but more on that in the next section.
3. Pick the Right Web Hosting Provider for You
With so many web hosting providers available, no wonder you're confused about which one to choose!
You should be aware that the web hosting provider doesn't only provide you with space on a server. Every web host also offers a variety of features that are very important for the success of your website.
But first things first: if the web hosting provider doesn't have high-quality servers, they can't offer you high performance for your website. The loading speed of your site is also closely connected to the web host you choose. If you think that's not too important, you'd be wrong—speed is another determining factor that will influence your rankings and the overall user experience of your website, so choose wisely.
4. Conceptualize the Design and Content
The type of design and content you use for your website has a great impact on your users. This means that if they find your site appealing, it's mostly because they like the design and can't wait to read your next post.
This is the biggest way in which you can attract new users and make sure the ones who enjoy your content come back for more.
You can hire a professional designer and a content writer to do this part for you, or experiment on your own at first. It all depends on your budget and which section you'd like to invest in the most.
Now that you know all the steps that you'll need to build a website, are you ready to go for it and turn theory into practice?
— Gavin
A Web addicted Geek stuck inside Tron.